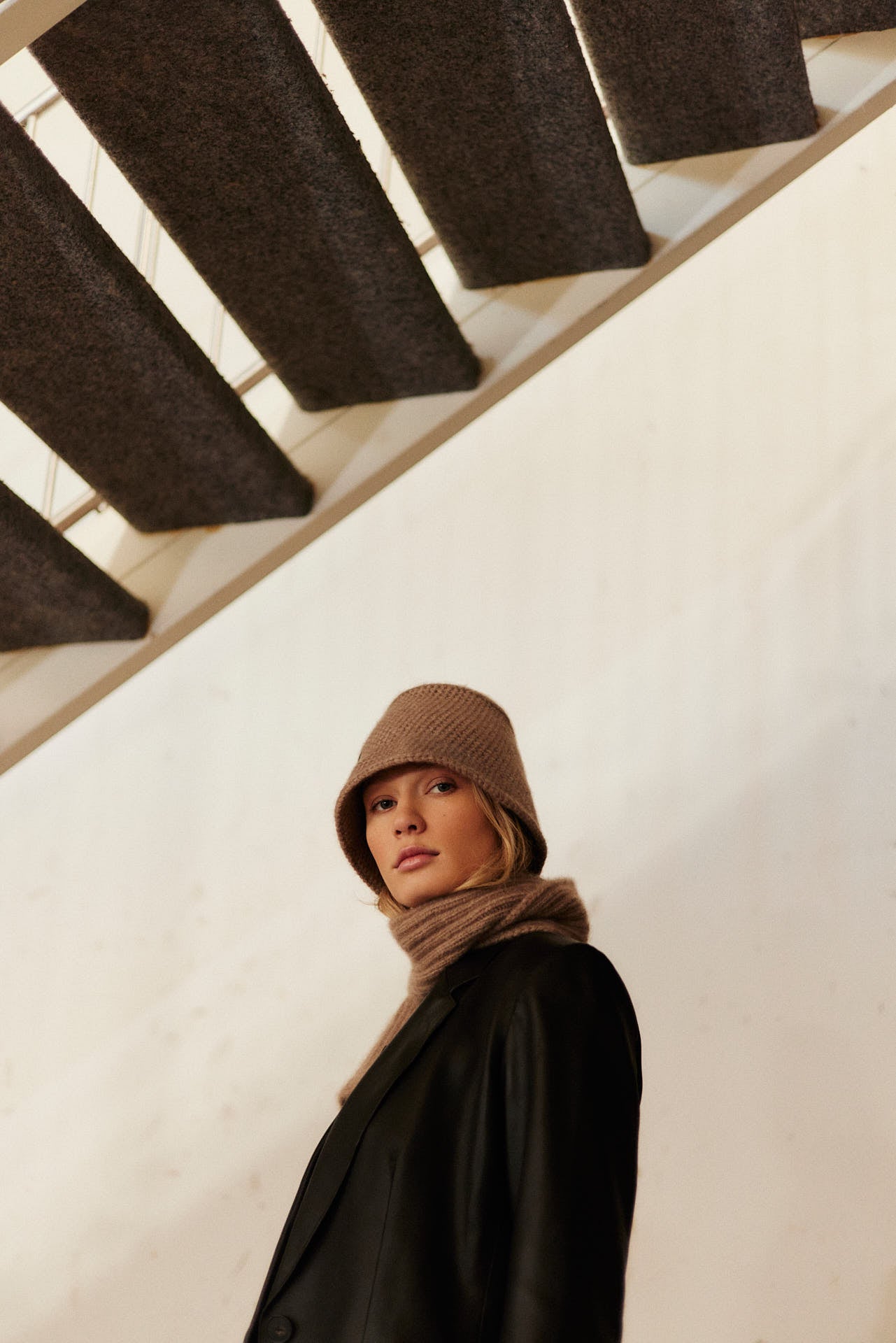 HANDGEMACHTE KASCHMIR ACCESSOIRES
Accessories for women by Prinz Berlin
Stylish accessories for women can add the finishing touch to any outfit. It doesn't matter whether your taste is minimalist or striking, the right accessories give your style an individual touch and enhance your looks with fashionable details. The iconic and modern accessories by Prinz Berlin try to emphasize exactly that. Each of our fashionable pieces is the result of the highest design and quality standards! We want to give your look that certain something and accompany you stylishly through every season. Our women's accessories are designed and made with great care and attention to detail to accompany you for a lifetime. Discover the cashmere scarves and silk scarves from Prinz Berlin in a variety of colours, sizes and patterns and shop for your high-quality scarves and shawls that will accompany you through every season.
Women's accessories as a statement piece for every occasion
Regardless of whether you prefer to choose your wardrobe based on stylish classics or place particular value on trendy and extravagant accents, with the right accessories you can give each of your looks a new shine. The high-quality women's accessories from Prinz Berlin have a maximum effect with their excellent quality and timeless design. They are always loyal companions, whether at a dinner party, on a business trip, on a coffee date with your best friend or on a relaxed shopping spree. Effortless statement pieces are therefore an absolute must if you want to quickly transform your look from day to evening and spice up simple items of clothing. Our women's accessories are the icing on the cake for every outfit in the most aesthetic and high-quality way, which get the most out of each of your everyday looks.
Timeless silk scarves with modern prints
Scarves made of the finest silk, combined with trendy prints and sustainably produced with great attention to detail, promise timeless elegance. One silk scarf, endless possibilities. Our silk scarves can be worn in countless ways, individually for every occasion. Wear it as a top or as a headscarf, tie it around your neck or in your hair, or throw the big illusion over your shoulders when it gets a little colder outside. Here are a few more ideas.
Cashmere scarf and bucket hat
The cashmere bucket hat is also available in all colors to match any short scarf made of cashmere. Especially on cold days, these two classics keep you warm and can be stylishly combined with all your winter outfits. Here are a few more styling options.
High-quality accessories for women are an absolute must-have
The high-quality women's accessories from Prinz Berlin are characterized above all by their unique quality. It is important to us that we only use the most valuable materials for the production of our beloved accessories and that we work with sustainable manufacturers. In doing so, we want these high-quality pieces to last a lifetime and always accompany you on your way. The Prinz Berlin women's accessories are classics that have existed for a long time and are given a new touch with modern details and timeless designs. They are such an absolute must-have in every wardrobe.
Timeless silk scarves with modern prints
Silk scarves are probably the most iconic accessory in the history of fashion. The silk scarves from Prinz Berlin are characterized above all by their modern prints and trendy color combinations. In addition to absolute classics such as the black illusion, the zebra and the black swirl, this classic reinvents itself every season and inspires its wearer with new patterns and seasonal colors. Produced in a small, family-run factory in northern Italy, the silk scarves can be combined with a wide variety of outfits every season. The look as a headscarf or wearing it as a top or skirt is particularly popular. what is yours
Cashmere scarf and bucket hat
The special thing about the short scarf and bucket hat made of cashmere is that they are both made by hand in Germany. When choosing the material, we at Prinz Berlin chose the softest cashmere, which gives you a soft hug when you wear it and keeps you warm, especially on cold days.